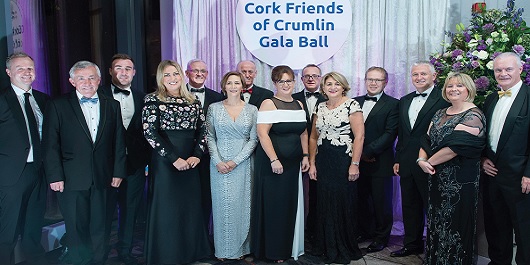 Ball organising committee with MC Matt Cooper and special guest, Munster Hooker, Niall Scannell, (Left to Right) Matt Cooper; Michael O'Flynn; Niall Scannell; Peigin Crowley; John J. O'Doherty; Orla O'Neill; Sean Carrigy; Ann-Marie O'Sullivan, Chairperson; David Carroll; Sheila O'Flynn; Barry O'Connell; Don Coughlan; Paula Cogan and Aidan Forde.
The Cork Friends of Crumlin Ball took place at the Clayton Hotel Silver Springs on Saturday October 21st. This annual event aims to raise much needed funds in aid of CMRF Crumlin, the fundraising body for Our Lady's Children's Hospital and the National Children's Research Centre in Crumlin.
This extremely worthy cause provides the people of Cork with an opportunity to support Irelands's sickest children, and to let the children and families who travel from Cork every year know that we are right behind them, raising and donating funds so their children can access the best care, research and knowledge to help them through really tough times.
CEO of The Children's Medical and Research Foundation (CMRF) Lisa Nicole Dunne said Cork has been very supportive in the past. "We have always received tremendous support from the people of Corkand we are delighted to have this prestigious event as a key fundraising highlight. "Now more than ever, support is critical to ensure that sick children have the best care and treatments available".
Induchem Group have been proud supporters of this highlty deserving cause for a number of years. Our Managing Director David Carroll has played a prominent role on the organising committees for the annual CMRF Ball and Golf Classic Event. David says "CMRF plays such a vital role in supporting sick children and their families not only in Cork but across the country. Every sick child deserves every chance and we should work tirelessly to try and achieve this". Please join us to help in the continued support of CMRF Crumlin.