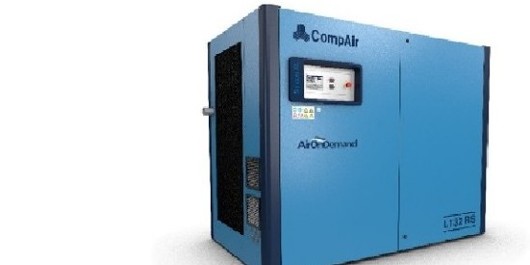 CompAir unveils new oil-lubricated 90 to 132 kW
CompAir has unveiled its newest oil-lubricated compressors for its leading CompAir L-Series range, offering best-in-class efficiency.
Available in 90 kW, 110 kW and 132 kW units, the new compressors deliver efficiency improvements of up to +6 % when compared with previous models, plus a 7% higher flow rate. The new compressors are available in both fixed and regulated speeds – which can help reduce a system's total cost of ownership significantly – as well as air-cooled and water-cooled options.
All models are offered with a completely new airend, featuring a larger-sized inlet and outlet to help improve air flow and reduce pressure drop. Delivering the highest quality compressed air at a low rotational speed, to help minimize the unit's energy consumption, the new airend has been designed and manufactured at the company's Centre of Excellence in Simmern, Germany. CompAir is confident in the capabilities of its new airend technology and it is supported by the CompAir Assure warranty, which covers the airend for up to ten years or 44,000 hours.
New Features:
A newly patented oil regulation valve, which balances oil and the discharge temperature according to environmental conditions – Improves efficiency levels by up to 5%
A new robust shaft seal system to stop oil leaking from the housing ensures the highest levels of reliability and minimises downtime
A new intake filter design which reduces pressure drop, and an improved oil separator designed for quick and easy servicing.
The compressors are equipped with a premium high efficiency electric motor which can be upgraded to an ultra-efficient energy saving IE4 electric motor.
The use of radial fans for low noise levels, the L Series compressor's innovative cooling system ensures a consistently low operating temperature, optimising compressor efficiency and reduces energy consumption as a result.
The L Series 90 – 132Kw compressor range delivers a pressure range from 5 to 13 bar and flowrates between 5.1 to 24.5 M3/min.
L-Series feature CompAir's Industry 4.0 solution iConn as standard. A digital air management platform which provides historic, real-time, predictive and cognitive analytics to help users optimise and improve compressor performance.