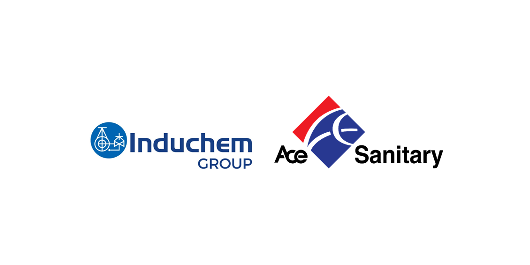 Induchem Group, a trusted partner for supply of premium quality, engineered products & services to leading Pharmaceutical, Bio Pharmaceutical and Food & Beverage manufacturing companies, are proud to announce the opening of our new Sanitary Hose Production Cell at our headquarters in Cork.
We will service the Pharmaceutical, Bio-tech, Food, Beverage, Dairy and Cosmetic manufacturing markets with our FDA-Compliant hose products. Induchem Group specialise in understanding the processes of our customers and providing proven-engineered solutions to meet those applications. The Ace Flex-Rite and Seal-Rite sanitary hose products are specifically designed to meet the needs of these industries and will be a natural complement to the existing Induchem Group range of products.
Working with ACE Sanitary, Induchem Group have installed state of the art hose crimping & testing equipment in order to offer our customers a market leading range of sanitary hoses with the same quality, traceability & level of service that Induchem Group has been famous for since 1982.
With Ace Sanitary as a partner, Induchem Group can offer Rubber, Silicone, PVC & Fluoropolymer Lined hoses with Seal-Rite™ radial crimp couplers. Ace Sanitary has secured fitting technology patents that set them apart from all other sanitary flexible product manufacturers and Induchem Group are proud to bring this proven technology to our customers.
Your Induchem Group representative will be in touch shortly to arrange a demonstration of this exciting new product range. In the meantime, if you have any questions or queries regarding our Ace Sanitary Hose Range, please don't hesitate to contact us.