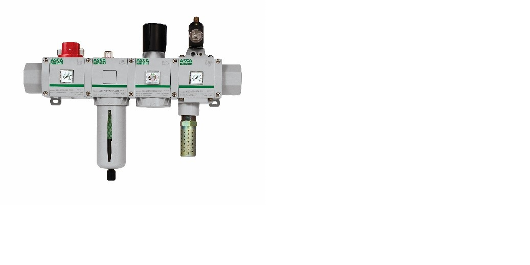 Reduce energy usage and costs with our new 653 series, which further expands our range of air preparation products
Product Overview:
Induchem Group are pleased to announce the launch of the Asco 653 Series Air Preparation product. The extension to the series enables us to offer you a wider range of aluminium air preparation products, including the 651, 652 and 653 series. Together with the stainless steel 342 series, small 105 series, the Delta filter line, and all special versions, we can now offer one of the most competitive air preparation product families in the market.
The ASCO 653 series of air preparation products have a pressure range of 0-10 bar, are available in ¾" and 1" port sizes, and offer a high flow rate for their size. This enables you to power more products from the same FRL, or, alternatively, to reduce pressure drop across the system, both of which enable potential energy and cost savings.
The 653 series has a modular design, which enables you to keep your inventory low. The range consists of filters, regulators, filter regulators, lubricators, soft starts, quick exhausts, diverter blocks and shutoff valves.
Key features:
Reduces energy and costs – The 653 offers a high flow (up to 10 000 l/min) in a small size, so you can power more products from the same FRL, or reduce the pressure drop across the system

Reduces footprint – The 653 is a compact product for the flow it offers. Furthermore, it can be supplied with a flat gauge. This can save you space on your application.

Saves time and resources by working with one supplier – You can now choose from one of the widest, most competitive air preparation product families on the market. This makes it easy to find the product that best meets the needs of your application.

Reduce stock inventory – The 653 has a modular design, so you need fewer items in stock.

Safe and reliable – The filters comply with ISO standards, and the 653 products can be supplied ATEX and CUTR certified, ensuring a reliable and safe operation, even in harsh environments

Flexible – The 653 series has a wide operating temperature range of -20 to +50°C (-40 to +80°C optional), ensuring it to be suitable for extreme environments
For more information email sales@induchemgroup.com