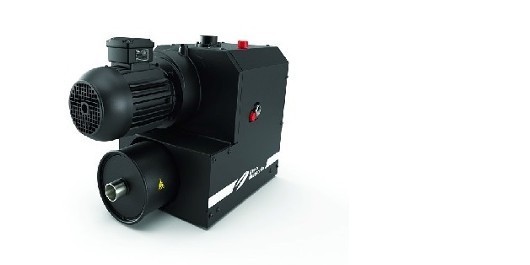 Gardner Denver Unveils a New Oil-Free Claw Vacuum Pump
Induchem Group are pleased to introduce Elmo Rietschle Next generation claw technology vacuum pumps C-VLR 62 and C-VLR 122.
These compact air-cooled pumps extend the range of Elmo Rietschle's already extensive portfolio of claw oil free vacuum pumps from 60 m3/h up to 1,000 m3/h. The range has up to 35% smaller footprint than other claw pump manufacturers and all pumps are supplied with IE-3 motors which are VSD compatible. Maintenance costs are greatly reduced due to fewer wearing parts and with normal service intervals of up to 20,000 hours rather than every 5,000 hour intervals for oil lubricated pumps. The pumps deliver best in class noise levels and feature a sound insulating cover and exhaust silencer eliminating the need for additional soundproofing.
The new models are available with both CD & XD internal coatings for "Classic Duty" and "Heavy Duty" which protects against harsh processes such as milking parlour, process or sewage applications and provide greater reliability against existing claw pumps.
Whatever your vacuum application is we have a vacuum solution that can help.