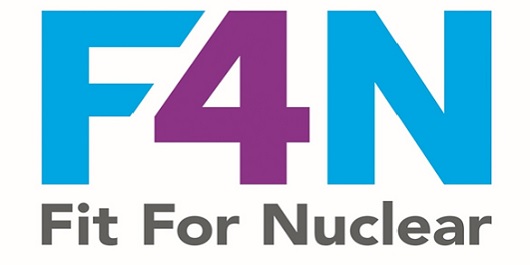 Fit For Nuclear
When Induchem registered for the F4N programme in November 2014, it was with the thought that this might be a useful means of engaging with the nuclear industry. The reality has been somewhat different! We completed the initial online registration with what we believed was an accurate indication of where the business was in terms of the core assessment areas ; the reality was that that while we were very good in some areas (Quality, Health & Safety) , we had a long way to go in others (People and Process Excellence).
We took on board our assessor's comments about visibility and employee engagement and introduced our ViP (Visible Process) Board; we utilised this to encourage the team to get involved in process mapping and found this to be extremely beneficial, particularly in respect of manufacturing processes. We took a step back in this area, looking at the entire process from goods in to despatch; this led to significant reorganisation of the shop floor with manufacturing cells and equipment being relocated and the implementation of process improvement/monitoring.

As a SME, we do not have the resources to permit us to operate a multiple-tiered quality system. We set the bar at meeting the requirements of the nuclear industry on the basis that if we can satisfy their expectations, we will satisfy those of other industries. Our F4N journey over the past 15 months has enabled us to develop and implement 24 robust quality processes which capture all key aspects of the business, successfully achieving ISO9001:2008 accreditation under the Induchem Group umbrella with LRQA and leaves us in a strong position for continued growth and future development.
FPAL - First Point Assessment Limited
Operators and Contractors view their supply chain as an integral extension of their organisations, and strive for a transparent and efficient collaboration with best in class suppliers. The Achilles FPAL community helps to create business opportunities for suppliers in a collaborative, neutral environment whilst ensuring compliance to industry standards and reducing risks across the supply chain for buying organisations
Achilles FPAL identifies, evaluates and provides pre-qualification information about suppliers on behalf of major buyers in oil & gas. Established in 1996 by the UK oil & gas industry, FPAL was formed following an industry initiative known as CRINE (Cost Reduction in the New Era) which recommended the need for improved supply chain efficiencies and development of a centralised system which provides standardised information and helps reduce procurement costs by 30%.

Induchem were awarded our FPAL certification in June 2014. This has added to our continued commitment as Achilles FPAL increases our visibility and gives us the information and contact details we need to pursue more opportunities.
ISO Certification
ISO is an independent, non-governmental international organization with a membership of 163 national standards bodies. Through its members, it brings together experts to share knowledge and develop voluntary, consensus-based, market relevant International Standards that support innovation and provide solutions to global challenges.
Induchem are proud to hold an ISO 9001:2008 registered certification from Lloyd's Register Quality Assurance (LRQA).
Our original approval was granted on January 8th 2014 and from here has allowed Induchem to grow and continue to meet the highest standards in all our products and services.
This international standard is applicable to the sales and manufacture of plastic lined carbon steel pipe fittings and valve control boxes. Repair, stockholding, procurement and supply of valves, fluid handling equipment, actuators and associated ancillaries for safe and hazardous areas to all industries, including power generation, oil and gas, petrochemicals, pharmaceutical, food and utilities.
ISO International Standards ensure that products and services are safe, reliable and of good quality. For business, they are strategic tools that reduce costs by minimizing waste and errors and increasing productivity. They help companies to access new markets, level the playing field for developing countries and facilitate free and fair global trade.
Here at Induchem group, we are determined in our continued commitment to producing the highest quality products for all our customers across the globe.