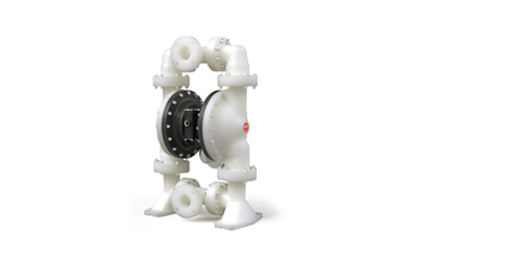 A NEW MEMBER OF THE Aro EXP SERIES FAMILY:
THE THREE-INCH NON-METALLIC DIAPHRAGM PUMP
Induchem Group are happy to announce that ARO is expanding its line of EXP Series Air Operated Double Diaphragm pumps with the addition of a three-inch non-metallic version, providing you with another great pump solution.

Designed for chemical and water processing applications, the three-inch non-metallic pump can transfer up to 1,079 Ltr/min of fluid without causing the type of damage possible from smaller capacity pumps that use higher pressures. This is a key feature for customers who want to maintain fluid integrity and maintain process quality.


Like all ARO EXP Series pumps, the three-inch non-metallic pump comes process ready with connection points and a choice of contact materials that make future upgrades possible if application needs change. The pump can be enhanced with electronic interface capability to maintain flow accuracy and support automated processing, Diaphragm Failure Kit, End of Stroke feedback options as well as Aro repair kits will keep your pump maintained and running while saving you time and money.
Please contact sales@induchemgroup.com for more information.