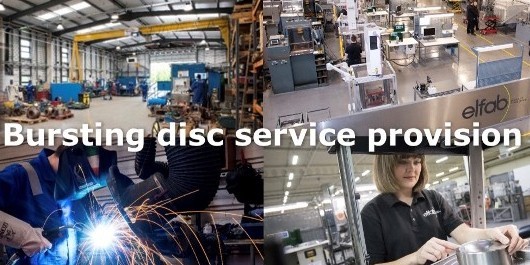 Induchem Group is the approved supplier for OsecoElfab in UK and Ireland. We provide a wide range of bursting discs and associated burst detection systems to chemical processing, petrochemical, food and pharmaceutical, and biopharmaceutical companies. We have recently extended our value provision by becoming certified as OsecoElfab's approved provider of a range of bursting disc services. These services include on-site surveys, a stock consolidation programme and pressure management training.
Site surveys
Trained and approved Induchem representatives will visit your site to survey the number and type of bursting discs in use throughout your plant or processes. You will receive a clear overview of the pressure relief devices in use, including an executive summary and a detailed report on the condition and suitability of the bursting discs installed. Induchem is also authorised to make recommendations on the most cost-effective pressure relief devices to use going forward.
Stock consolidation
Following on from the detailed site survey, Induchem can take you through a stock consolidation programme, which offers options for cost-savings and improving process efficiency. The programme aims to standardise the bursting discs used across your site, bringing benefits such as reduced stock holdings and spend, improved purchase costs and reduced downtime for disc installation and maintenance. A popular solution used in this programme is the OsecoElfab Opti-Gard bursting disc. By using this versatile, single-disc solution, customers can often eliminate a large proportion of rupture disc variation, reducing inventory by up to 65% while significantly decreasing overall long-term spend.
Training and consultation
We at Induchem can liaise with you to provide any training you need relating to aspects of pressure management throughout your plant. If needed, we can call in a specialist from OsecoElfab to cover topics such as bursting disc maintenance, disc sizing and selection and specific product training. Induchem can also act as consultants for matters relating to planned maintenance operations and asset management.
For more information on Induchem's OsecoElfab authorised service provision, please contact us on service@induchemgroup.com or +353 (0)21 4848900 / +44 (0)1260 277234.